At A Glance
Hi!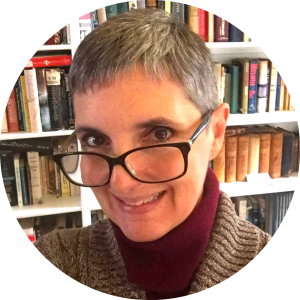 My name's Donna Cicotte.
I'm a homeschooling mother of 4, Grandma to 2, and I've been happily married for 25 years.   I make my home in the Texas Hill Country, I was an English major in college, I have 35 years' proofreading experience, and I specialize in proofreading verbatim transcripts for court reporters.
My Proofing Method
I accept PDF, ASCII, .doc, .txt, .word, and .pages files. I prefer to receive your file in PDF format, but if you're unable to do that, don't worry:  I can convert your file for you.
Once finished, you'll receive a squeaky-clean PDF of your transcript with all errors marked in red, delivered straight to your inbox.  (If you have any special requirements, please feel free to ask! I'm friendly and always aim to please.)  
Rates
My rates are 35¢ per page for "standard" jobs (48-hour turnaround), 50¢ per page for rush jobs (less than 48-hour turnaround). For my entire rate card, including prices for jobs delivered the same day and for jobs with audio, click here.
There are also some neat little rate calculators on that same page so you can quickly see a personalized price for your exact project. Click here for rates and calculators.
And if you'd like to download a copy of the rate card so you can keep it handy on your desktop, click here.
Your "Pay Nothing Guarantee"
Peerless Proofreading provides squeaky-clean transcripts delivered on time or you pay nothing.  Period.
How It All Works
Using the Get In Touch page, tell me the size of your document and when you need it done.*
I e-mail you back, answer any questions, and make sure we're all set to go.
You download this Reporter's Preference Sheet, fill it out, and e-mail it back to me along with your transcript.
I get to work!
You get an e-mailed PDF file of your squeaky-clean transcript, clearly marked in red with yellow highlighting,  as soon as it's done.
I invoice through PayPal.  (You don't need a PayPal account to pay through PayPal.)
Simple.
If you've got any questions please don't hesitate to ask.  Or, if you prefer, go ahead and explore the site first and see if your question is answered there.  I'd recommend starting with the FAQ page.
Talk soon,
-Donna
P.S.  For an in-depth explanation of exactly what it's like to have me proof your verbatim transcripts, click here for what to expect.
*P.P.S.  For rush jobs contact me here immediately to make sure I can accommodate you.
Peerless Proofreading
donna@peerlessproofreading.com
1091 Moerike Road
Canyon Lake, TX  78133