What to Expect
If you're on this page, it's likely you've decided you're interested in getting your transcript proofed and would like to know what working with me looks like.
I like to make sure people feel comfortable as they become clients, and I like to make sure that afterwards you're anywhere from satisfied to ecstatic with the experience.  Here's an explanation of the steps that help make this happen:
What to do first:
Use the Rate Calculators to determine your customized job total.  There are no surprises that way!
Please download a copy of my rates and a copy of my Reporter's Preference Sheet. Keeping my rate card handy on your computer will make it easy to contact me and you will fill out the Reporter's Preference Sheet and send it to me with your first transcript.
Use the Get In Touch page to contact me with the length of your transcript and when you need it proofed by.
This is also when you'd mention what type of file it is, or if you have any special requests.
If your job is a "rush," (48 hours or less) please contact me as soon as possible so I can best accommodate you.  Same goes if you want to schedule a proofreading job in advance, or to schedule "daily" work.
If you have a large job that you're working on, I prefer to have you send it to me in 50-page sections so that we can both be working on it at the same time.
Once I've received your e-mail:
I'll get back to you as soon as I see your message.  (I check my e-mail periodically throughout the day and keep my mail program open on my computer from 5 AM to 8 PM.)
I'll answer any questions you may have and I will confirm that I'm able to do what you want.
You'll see my reply in your inbox (it'll be from donna@peerlessproofreading.com) usually within an hour.  If you don't receive a reply from me in a timely manner, check your "junk" or "spam" folders.
After that:
Send me your Reporter's Preference Sheet and your transcript through e-mail, Dropbox, Google Drive, Box, or OneDrive.
Once I receive your transcript, I'll get to work.  I'll read your transcript for context, spelling, punctuation, consistency, speaker verification, homonyms, general formatting, et cetera.  I will also research terms, firms, phone and fax numbers, pages in your indices, and anything else that looks suspicious!
I can generally have your transcript returned to you in less than 3 days for standard jobs.  For rush jobs, it can be done as quickly as the same day; however, I don't recommend waiting until the last moment to contact me!
Once I've finished:
I'll e-mail your corrected transcript in PDF format the instant it's ready.
All corrections will be marked clearly in bright red and highlighted in yellow.  Note:  I only return corrected pages to you.  If you open a "clean" page, it means you need to update your version of Adobe Reader.  You can do that for free here.
You'll be invoiced for the job through PayPal.  You do not have to have a PayPal account in order to use PayPal.  For occasional clients, I invoice immediately upon return of a job.  For "regular" clients (at least biweekly work) I'm happy to invoice on the 1st and the 15th of the month.
Once you've received your squeaky-clean transcript:
Check your e-mail for an invoice from Peerless Proofreading; it will be sent through PayPal.  Click on the link in the e-mail and it will take you to the PayPal site to securely complete your transaction.  Remember:  You do not need a PayPal account to pay through PayPal.
You can pay by credit card, debit card, or your PayPal account, if you have one.  I am willing to accept payment by check for "regular" customers.  Contact me to discuss this option.
"Professionally," that's about it – until the next time you need something proofread.
It's my hope that you've had such a good experience working with me that you wouldn't mind telling people about how nice it was.  Once I've completed your job I'll send you an e-mail asking for feedback from you; I'd like your permission to add your feedback to our What People Are Saying page.  If you're not willing to offer feedback or you don't want to allow us to post it on the site, that's fine…just be sure to let me know.
Of course, I also wouldn't mind it if you'd think of Peerless Proofreading the next time someone mentions they're looking for a proofreader.  No advertising is as powerful as word of mouth.  And I will always strive to merit your heartfelt recommendation.
🙂
If I did this right, then you now know what to expect when you hire me to make your transcripts shine.
If you've still got questions or you're ready to contact me about a job, then simply click the Get In Touch page and shoot me a quick e-mail.
Talk soon,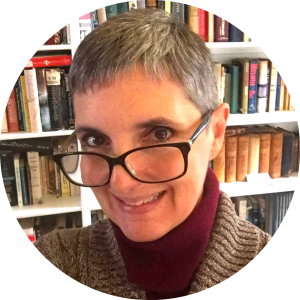 -Donna Cicotte
Peerless Proofreading
donna@peerlessproofreading.com
1091 Moerike Road
Canyon Lake, TX  78133